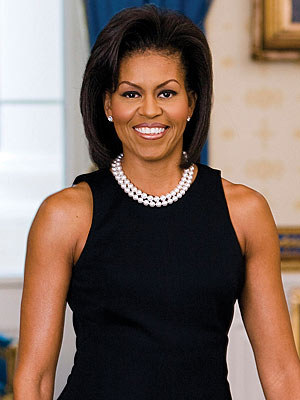 I've had an issue with this for years and I'm now taking the time to address it to
my
public.
Since Barack Obama became President of the United States back in 2008, many prominent black women have put his wife & first lady, Michelle Obama on a pedestal. Some black women praise her so much I get the idea that they think Black women weren't of any importance until she came along.
Yes, she is the first-first lady of color and has accomplished a lot in her life. However, what
really
is the big deal about her? Where was all this love when Condaleeza Rice was around? hmmm. It's a bit ridiculous to me that there are grown middle aged women who are in awe of Michelle Obama like she is a rare species; as if Black women weren't beautiful and successful before her.
If she wasn't the first lady would we really even care about her? I don't want to take away from her personal achievements because the issue is not her, it is our own people who look down at our race.
When you look in the mirror do you not see a beautiful, respectful woman? If so, there is no reason to idolize another human being who puts her pants suit on one leg at a time like the rest of us.
What has her actions done for the country, for
our
community that will have a lasting impact? Besides her recent attempt to eliminate childhood obesity in the country, I'm not exactly sure why she is the example and the epitome of a successful black woman.
Maybe it's the generation I was born into or maybe it was how I was raised but growing up I had many wonderful examples of classy, successful Black women.
When it comes to uplifting our community and our culture I feel that sometimes it is our own people who fail to see the beauty in it. I think women of color who put Michelle Obama on such a high level are ones who cannot see the beauty within themselves as a [black] woman; their worth is put into a woman they don't even know.
My parents raised me to understand that I can accomplish anything I set my heart on so having a Black President and first lady of color is something that I thought was the norm. We are a creative, intelligent people who are capable of any and everything. If you lack the understanding of the richness and intelligence that is the Black woman google: Sojourner Truth,
Madame C.J. Walker, Rosa Parks, Shirley Chisholm, Mae C. Jemison, Condaleeza Rice, and look at YOURSELF and realize what you represent and what you are about.